Legal Team
Vanitha Manickam (Accountant & Administrator)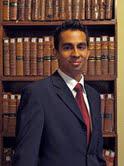 Background

MA (Cantab); PG Cert Law (University of Auckland)

Mr. Henricus is based in Colombo, Sri Lanka. He completed his primary legal education at the University of Cambridge and initially served as the in-house legal officer for SriLankan Airlines. He subsequently spent two years working for a law firm based in New Zealand specializing in telecommunications, technology and regulatory law across the Asia-Pacific region. He moved back to Sri Lanka in 2009.

His primary areas of practice are aviation law and airline liability, the regulation of telecommunications and competition law, primarily in areas of technology and new media law.

Copyright © 2010-2017 Law Asia. All rights reserved.